Fitness
7 Hiking Trails In The Klang Valley For Your Morning Hike
by Natashya Khoo on Sep 15, 2022
Now that we're officially mask free, there's nothing like an early morning hiking session with your active friends to get some of that fresh, fresh air into your lungs. Hiking is a great activity for all fitness levels, and it's a nice bonding experience (especially if breakfast is planned after).
Strap on your hiking shoes, your most comfy leggings and a sports bra (feel that dew on your skin, baby!) and head to one of these seven hiking trails in the Klang Valley that you don't wanna miss.
Bukit Gasing, PJ

Kota Damansara Community Forest Reserve

FRIM

Taman Tugu

Bukit Sri Bintang

Broga Hill

Wawasan Hill


1. Bukit Gasing, PJ
Gasing, as affectionately called by locals, is a commonly frequented hiking spot as it's one of the more beginner-friendly hills to hike. The highlight of this hill is their suspension bridge- it takes quite a few stairs to get there, but it's well worth it for the Insta-worthy shots! 
2. Kota Damansara Community Forest Reserve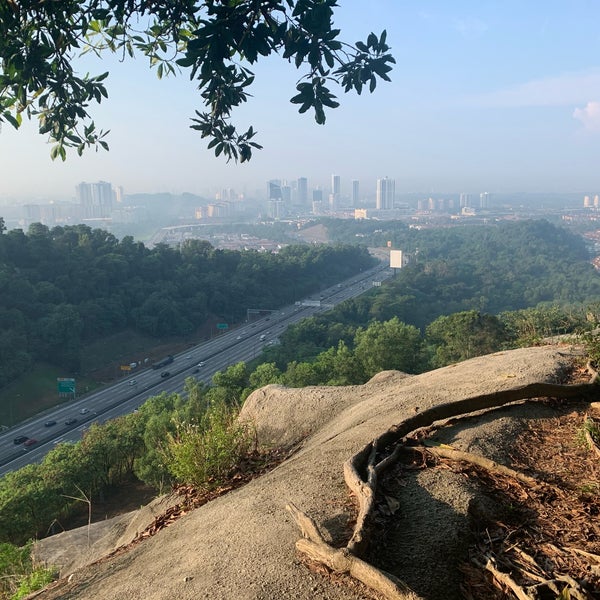 Kota Damansara might not be a place you think about when it comes to hiking, but there's actually a trail there that can take up to 4 hours to finish! The forest reserve is well maintained by volunteers and the Orang Asli community, and has a close up view of the highway at one of its peaks.
3. FRIM
The Forest Reserve Institute of Malaysia, or FRIM for short, spans 545 hectares and is declared as a National Heritage. Aside from a hike, there is also a forest skywalk and camping sites, with the full list of details here. At time of writing, there is an admission fee of RM1 for Malaysian adults and children above the age of 13.
4. Taman Tugu
If you're based in Kuala Lumpur, Taman Tugu is just the place for you. Located in the heart of KL, this hiking trail is suitable for all ages. You can expect to see everyone from young families to senior citizens hiking this trail, which means that it can sometimes get crowded on weekends. Overall, it's a well-marked, beginner-friendly trail.
5. Bukit Sri Bintang
When you think DesaPark City, you might think Arcadia, cute cafes and even cuter dogs. However, there is also a hiking trail that not many know about, and is also known as Bukit Pelangi. Whatever trail you follow, you'll be met with views of the city and the sunrise if you're early enough.
6. Broga Hill
Broga is a well-established trail among hiking groups and is a bit more of an intermediate trail compared to some of the spots here. There are 3 main peaks on the hill, and they can be quite slippery so comfortable, sturdy shoes are a must. The trail is just above 3km long and can take up to 2 hours to finish.
7. Wawasan Hill
Wawasan Hill is also known as Puchong Hill and is actually a part of Universiti Putra Malaysia. There are two waterfalls along the trail for a refreshing break. Parking gets quite packed early on so do go early to secure a spot.
Ready to hike? Put on your comfiest activewear & let's go, LIVLOLA fam!